Difference between shaving a Fun-Kins pumpkin and a real pumpkin
When carving Fun-Kins you will need to use a Dremel. However, when carving real pumpkins you need to use loop tools to carve down about 50% into the pumpkin.
Tip: Make sure you take your time when shaving out this area of the pumpkin. Move too fast and a piece can break off and if you donít shave the design right the pumpkin could end up not looking right.
---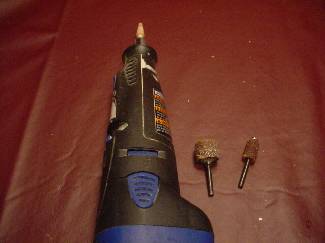 Most of the carving is done with the narrow tip that is on the Dremel and I only use the larger tips when I have to shave large areas.
You should be able to find a Dremel at your local hardware store or go to www.cool-pumpkins.geraldgore.com/tools.htm for a vendor that I recommend.
Almost done
Our design is now starting to take shape. The shaved areas will create a darker orange color when the pumpkin is lit up.
The pumpkin looks like a real mess with the lights on. The baby will really shine when you put an artificial light in it and turn off the surrounding lights.